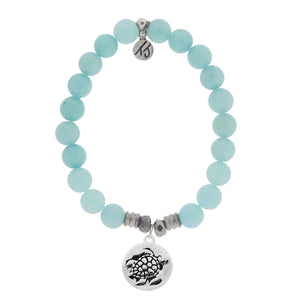 Mouse over to zoom
Apatite - Turtle (TJ10254)
Apatite Stone Bracelet with Turtle Sterling Silver Charm
Apatite Handmade Beaded Bracelet - Known as the stone of courage and creativity.
Turtle - A Turtle is known to symbolize persistence, intuition and patience. Wear this Turtle Apatite charm bracelet as a reminder to be patient and listen to your inner voice. Remember good things may take time.
-Each beaded Turtle Apatite charm bracelet is accented with two Pyrite stones worn to bring good luck and good fortune to the wearer.
-8mm stones
-Apatite stones are natural stones therefore bracelet color may slightly vary from Apatite bracelet to Apatite bracelet. Each and every Apatite bracelet is truly unique.
-Sterling silver charm
Size Guide