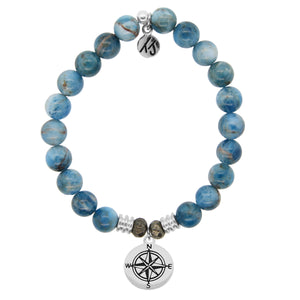 Mouse over to zoom
Arctic Apatite - Compass (TJ10347)
Arctic Apatite Stone Bracelet with Compass Sterling Silver Charm
Arctic Apatite Handmade Beaded Bracelet - The stone of courage and creativity.
Compass Charm - The Compass provides guidance on your journey through life. Everyday lies new opportunities to follow your dreams, even through the twist and turns wearing your compass charm bracelet will help guide you along your path.
-Each beaded Compass Arctic Apatite charm bracelet is accented with two Pyrite stones worn to bring good luck and good fortune to the wearer.
-8mm Arctic Apatite stones
-Arctic Apatite stones are natural stones therefore bracelet color may slightly vary from Arctic Apatite bracelet to Arctic Apatite bracelet. Each and every Arctic Apatite bracelet is truly unique.
-Sterling silver charm
Size Guide