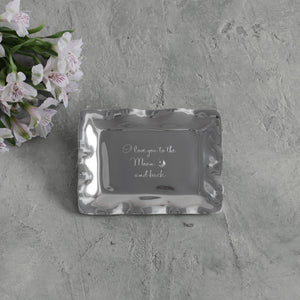 Mouse over to zoom
Engraved Tray "Love you to Moon"
Vento Engraved Tray "Love you to Moon back"
You'll love this tray to the moon and back! Express your love with this delightful GIFTABLES Vento Rectangular Engraved Tray from Beatriz Ball. Engraved with the slogan, "I love you to the Moon and back," this handsome mini tray is distinguished by its rich, hand finished surface, and practical size. Perfect on the vanity, desk, bedside table, or on a coffee table as a decorative accent. From our GIFTABLES Collection featuring handmade and artfully designed Beatriz Ball items at irresistible prices. Packaged in a lovely gift box, makes lovely present for the Holidays, birthdays, anniversaries, and other occasions. Beatriz Ball's intensely handmade products employ eco-friendly and sustainable materials and are crafted by artisans who trace a heritage of metalworking for generations. The brand provides authentic products made by--and made for--real people. Handmade of a top quality, FDA safe, easy-care, oven and freezer friendly aluminum alloy. Tarnish free.
This piece is hand-wash only. Please do not put in the dishwasher.


SKU: 7558
Size Guide