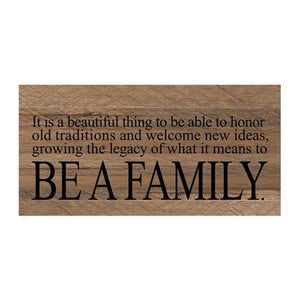 Mouse over to zoom
It Is A Beautiful Thing To Be Able To Honor
It Is A Beautiful Thing To Be Able To Honor
There is a history and soul in every piece of handmade artwork that we produce. What some people call imperfection, we call character, and this is what makes our products stand out above the rest.
The aged colors of our wood and patina on our metal provide that amazing, unique backdrop for the words that make our artwork go beyond a simple message, to a piece of artwork with soul. 
Knowing that each purchase also helps keep these materials out of the landfill inspires people of all ages to keep coming back for more.
Materials: We source distressed natural reclaimed materials throughout North America that ensures no two signs in the world are the same. The wood for this sign may have come from a ship yard, old factory or a huge variety of other sources. Buying reclaimed wood products is good for the environment.
Note: Due to the reclaimed nature of this product, colors and wood tones/features may vary slightly.
24"x 12" RECLAIMED WOOD WALL ART
Size Guide