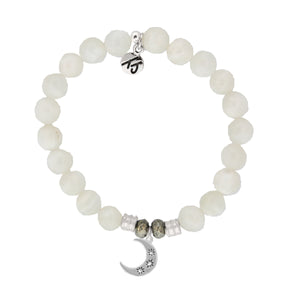 Mouse over to zoom
Moonstone - Friendship Stars (TJ50042)
Moonstone Stone Bracelet with Friendship Stars Sterling Silver Charm (TJ50042)
Moonstone Handmade Beaded Bracelet - Known as the stone of love, healing and luck.
Friendship Stars Charm: Just like stars shine bright during the night, a good friend shines the brightest when we need them the most. This charm is a thank you for always being there no matter the hour, place or reason. My life is simply better and brighter with you!
-Each beaded Friendship Stars Moonstone charm bracelet is accented with two Pyrite stones worn to bring good luck and good fortune to the wearer.
-8mm Moonstone stones
-Moonstone stones are natural stones therefore bracelet color may slightly vary from Moonstone bracelet to Moonstone bracelet. Each and every Moonstone bracelet is truly unique.
-Sterling Silver charm
Size Guide