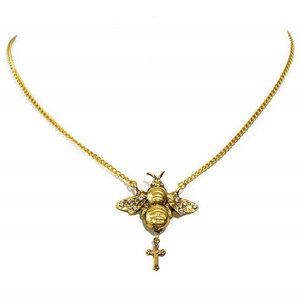 Mouse over to zoom
Bee Mine Necklace (CK:GBBMC-bg)
Bees fascinate us!
The bee is more honored than other animals, not because it labors, but because it labors for others. The divine power of the queen bee resonates with the energy of our Queen of Heaven.This collection is dedicated to the Queen Bee and what she represents:
Protection, courage, love, wisdom, and discipline.
This piece is completely handmade and it has a 10" Chain, drop length 8"- Bronze plated - Swarovski Crystals.  
Size Guide