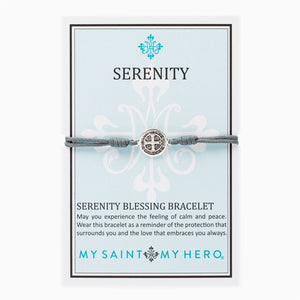 Mouse over to zoom
SERENITY BLESSING BRACELET, Slate/Silver
SERENITY BLESSING BRACELET - Slate/Silver
The Benedictine medal depicts the most powerful ancient cross of protection, while the cord that wraps around your wrist symbolizes the wisdom of the Holy Spirit and the embrace of our Blessed Mother. Wear this bracelet as a reminder of the protection that surrounds you and the love that embraces you always.
For Men and Women – adjustable cording which opens to 9.5" diameter.
Handwoven in Medjugorje, Bosnia and Herzegovina.
Gold or silver tone .5" Benedictine medal and our logo charm. Medals made in Italy. 
On an inspirational card with the Serenity Prayer.
SKU: 14021ST
Size Guide