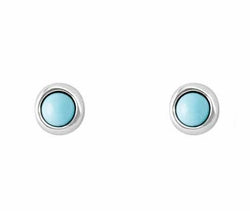 Mouse over to zoom
Ego earrings, silver/turqoise
Unode50 Ego earrings, Turquoise
Silver-plated metal earrings with a turquoise crimped Murano glass. Its design, elegant and timeless with rounded and slightly irregular forms, follows the distinctive creative and ground-breaking spirit of the UNOde50 brand. A unique jewel that has been prepared using traditional methods and which is 100% handcrafted in Spain.

Dimensions:
Materials: Silver Plated; Murano Glass.
Care Instructions: Sterling silver can react by darkening when exposed to the air and light, or in certain cases, by the different types of Ph of the skin. To clean these types of pieces we recommend that this is done by using a soft cloth or with a non-abrasive silver cleaner to prevent damage.

Use a soft, slightly damp cloth to clean the parts of crystal or glass.
SKU: PEN0461TQSMTL0U
Size Guide